Download Solasta Crown of the Magister SE v1.3.55-GOG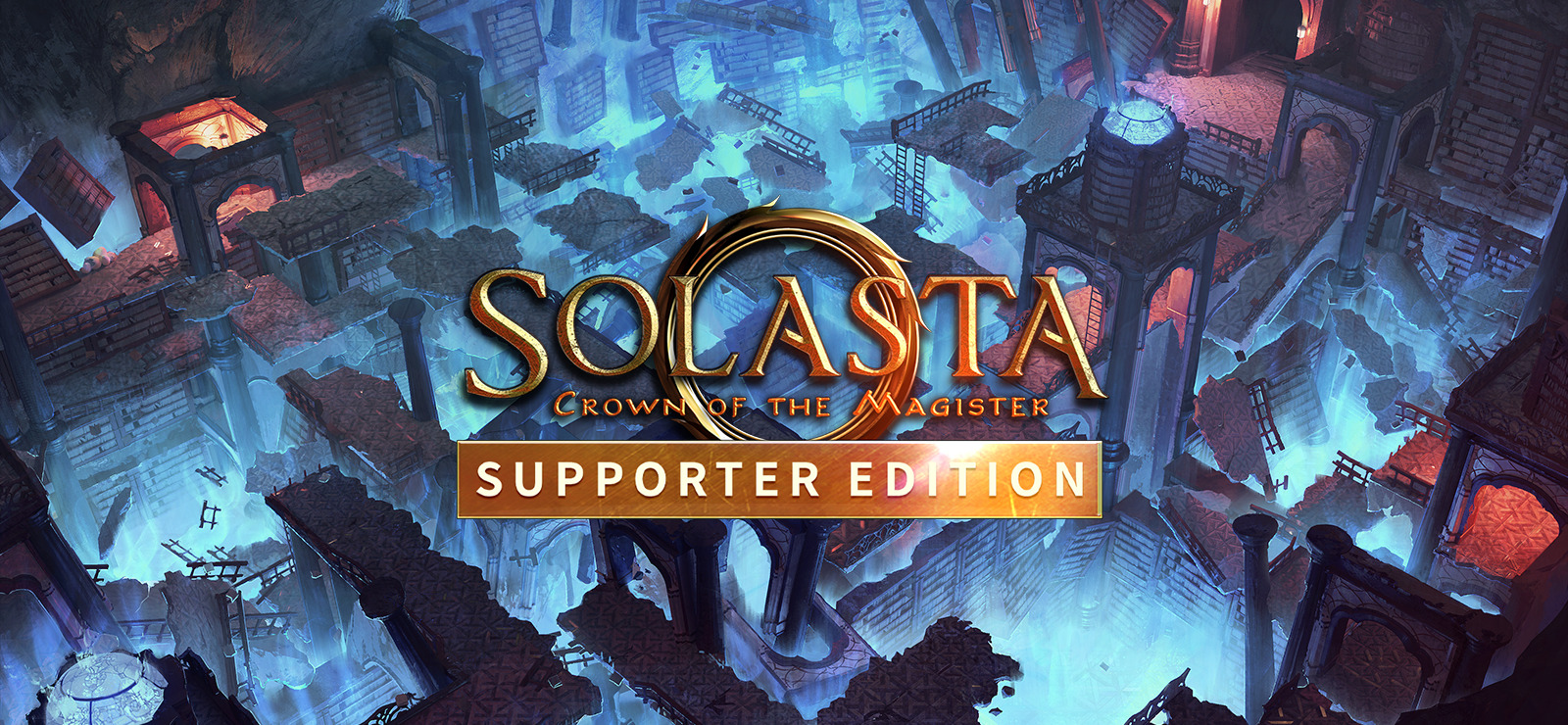 Game Details
Release name : Solasta Crown of the Magister SE v1.3.55-GOG
Size : 22 GB
Title : Solasta: Crown of the Magister Supporter Edition
Genre : Role-playing, Turn-based, Fantasy
Developer : Tactical Adventures
Publisher : Tactical Adventures
Store: click here
Release Date : 13 December, 2020
Screenshots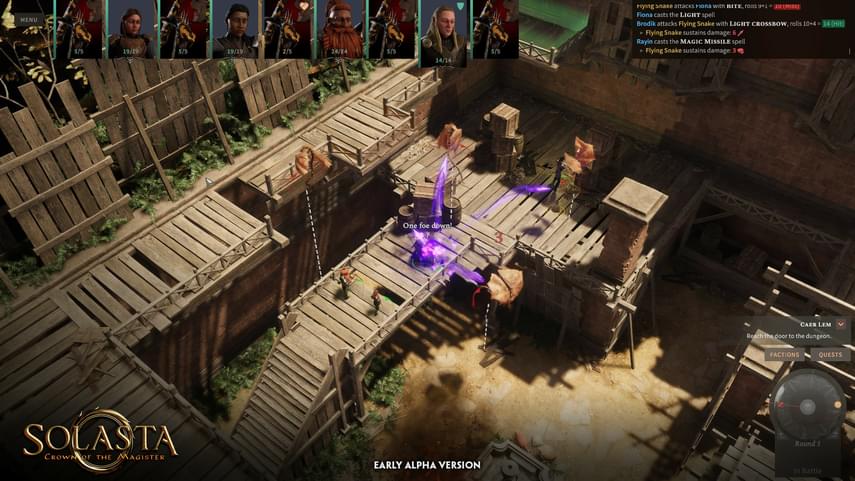 Gameplay
About This Game :

---
Join the official Solasta: Crown of the Magister discord channel and visit official forum!
Do you love Solasta: Crown of the Magister? Like, so much you're wondering if you failed a Wisdom Saving Throw at some point? Well look no further, for you stumbled upon the fabled Supporter Pack! Help further fuel the development of the game, and we'll treat you with some fancy goodies.
Important Notice
If you are a Kickstarter Backer whose rewards included the game, you will automatically receive a Supporter DLC Key! There is no reason for you to buy this DLC again (unless you just want to support us even more. Roll Wisdom (Insight) again)
The Supporter Pack is different from the Kickstarter Edition (not available for purchase)
Most of the content of the Supporter Pack will be available when our game fully release, not during Early Access
By buying this DLC you are first and foremost showing your support for the game and for us, the developers! The fluff below is just the 1d4 Guidance Bonus on your everyday Skill Check (think of your poor DM, don't spam Guidance)
Content available during Early Access
Environmental Art Pack – High Resolution Concept Art of the many locations you will be visiting throughout the game
Weapon Art Pack – High Resolution Concept Art of various weapons you'll find in-game
Badlands Art Pack – High Resolution Concept Art from the early days of our project, when we were still creating the world of Solasta!
Additional content when 1.0 launches
4x Additional Dice – Diamond Dice, Golden Dice, Silver Dice, Bronze Dice
3x Additional Dice with special FX – Flaming Dice, Frozen Dice & Lightning Dice
True to the Tabletop
Wizards of the Coast granted Tactical Adventures a license to use the Dungeons and Dragons SRD 5.1 Ruleset, further anchoring our will to make the most faithful video game adaptation with the Tabletop Ruleset and craft the game you are hoping for!



Solasta: Crown of the Magister brings back the thrill, tactics, and deep storytelling of tabletop games. As you play, you'll feel yourself reaching for your dice and miniatures. It's time to dive into the world of Solasta. Roll for initiative!
Created and written by lifelong fans of Pen & Paper RPGs, comes Solasta: Crown of the Magister.


Bring the authentic Tabletop gaming experience to your PC!
Roll for initiative, take attacks of opportunity, manage player location and the verticality of the battle field. Set yourself up for the finishing strike and possibly roll a natural 20 at that key moment of battle.​
In Solasta, you take control of four heroes, each with unique skills that complement one another. Every hero expresses themselves in the adventure, making each action and dialog choice a dynamic part to the story. Players will create their heroes just as they would in a pen-and-paper game by choosing their race, class, personality and rolling for their stats.​
You make the choices, dice decide your destiny.

Key Features:
An Epic Team Adventure.
Discover the shattered world of Solasta: explore ruins and dungeons for legendary treasures, learn the truth of an age-old cataclysm – and stop it from happening again.

Create your very own party of adventurers with our Character Creation Tool in the classic tabletop RPG tradition. Breathe life into your heroes, and see their personalities reflected in their dialogue. Tailor your squad to your preferred strategy and maximize your party's abilities. The choice is yours.

Discover a Mysterious & Dynamic World.
Delve into long forgotten dungeons to unearth ancient artifacts, but stay watchful of light and darkness: many dangers hide in the dark, but a light can attract monsters. Some enemies have darkvision, some may flee from your torch… Successful adventurers will learn to use it to their advantage.

Fight monsters in squad-level, turn-based, tactical combat. Solasta's dynamic environment offers some interesting tactical options. Bridges can collapse, leaving enemies stranded and vulnerable. Walls and columns can be pushed over – on top of your foes, if you do it right. The world is your playground.

Prepare to Think in Three Dimensions.
The dungeons in Solasta are more than flat game-boards. Climb, jump, or fly around obstacles. Evade or surprise foes from above or below. Push them into chasms or drop things on their heads. Position yourself on high grounds to start the fight with an advantage.

Size also matters. Escape through narrow passages where bigger enemies won't fit and crawl through tunnels to find secret areas. Take advantage of the environment to find cover suited to your own size. Watch out, though – the monsters are also thinking vertically.
System Requirements for Solasta: Crown of the Magister Supporter Edition Download Free
MINIMUM :
System:: Windows 7 / 8.1 / 10
Processor:: AMD FX 4300 / Intel Core i5-3570K
Memory:: 8 GB RAM
Graphics:: Radeon R9 285 / GeForce GTX 950
DirectX:: Version 11
Storage:: 20 GB available space
Sound:: DirectX compatible sound card
Other:: Additional 800 MB available space for Supporter Pack goodies
RECOMMENDED :
System:: Windows 10
Processor:: AND Ryzen 3 1300X / Intel Core i5-7400
Memory:: 8 GB RAM
Graphics:: Radeon RX 590 / GeForce GTX 1060
DirectX:: Version 11
Storage:: 30 GB available space
Sound:: DirectX compatible sound card
How To Install Solasta: Crown of the Magister Supporter Edition Download Free
1. Download The Game.
2. Extract with WinRAR
3. Install The Game.
4. Play!.
Download Solasta: Crown of the Magister Supporter Edition Download Free

 Torrent link
Download Solasta Crown of the Magister SE v1.3.55-GOG.Torrent
 Direct Link
Download Solasta Crown of the Magister SE v1.3.55-GOG Direct Link