Download Princess Maker 5 v5391741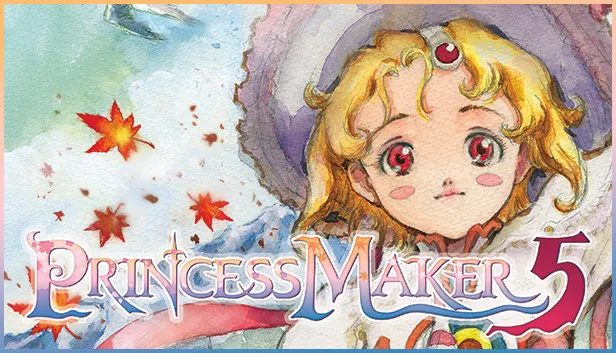 Game Details
Release name : Princess Maker 5 v5391741
Size : 2.69 GB
Title : Princess Maker 5
Genre : Simulation
Developer : CFK Co., Ltd.
Publisher : Bliss Brain
Store: click here
Release Date : 04 May, 2018
Screenshots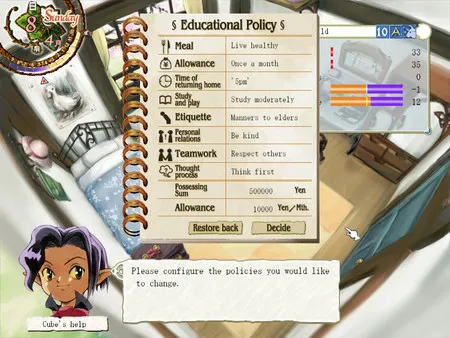 Gameplay
About This Game :
Welcome to the world of 「Princess Maker 5」!
■ Your and your daughter's story starts again
The stage of 「Princess Maker 5」 is the world we are living in now.
There is not only a TV, but we use the cellphone and the Internet as well.
But something is a bit different than those.
It's a world where the demons and fairies are living together.
And for you living in such world comes an orphan girl by nature.
This girl was the only Princess candidate survivor of the Kingdom that you served in the past.
At that time, you decided to take the girl and raise her as your daughter.
And your and your daughter's story starts.
■ Game contents
In this game(version), the player can choose father and mother as well as the name.
The main character, a former Hero of this world, is living in a modern world.
And a butler comes to you to take care of a girl who was driven by a power struggle in another world.
The girl lost her memories in another world.
The player's mission is to raise this girl safely.
She is about 10 years old and you have to make her a good adult for 8 years.
It is good to be a bride in pursuit of happiness in the real world, and a costume player and an actress are good too.
You can also go back to a chaotic Kingdom and go on a journey of adventure and romance.
■ The daughter grows with the player's mind
Let's decide on how to raise your daughter with your curfew, balance of study and play, etiquette, and so on.
She will act in accordance with the 「Education Policy」 that you can set out every month.
If she comes home late, she may be able to hang out at night, but become sociable.
Playing too much makes her neglect her studies.
Your way of raising will determine your daughter's future whether it is sparthan or laissez-faire.
On weekdays, your daughter goes to school. The schedules at school are fixed but it is up to you, the parent, to decide what to do after school.
If she goes to academy, she can raise a lot of abilities but it requires money.
She can do the same by making money with part-time jobs but there are different abilities depending on the type of academy and part-time jobs, so care must be taken not to cause stress.
■ Daughter's condition at a glance with MOE (Motion OF Emotion) system
The SD character displayed in the daughter's room reflects the daughter's abilities, personality, condition, and interests.
She is lying in bed when she is not feeling well, and may often take a sigh of relief at times when stressed, and shout at a doll from time to time.
It's fun to see a cute SD character moving around the room.
This is a new AI system called MOE.
She can be a tomboy with the concept of 「Personality Parameter」 or 「Puberty」,
and sometimes she becomes rebellious, expressing a more human form.
■ Variety of clothes
When talking to your daughter, your daughter's graphics are displayed on the screen.
At this time, you can change the clothes your daughter is wearing.
If she dresses up to TPO, she'll stay in shape, and when she dates, the evaluation of the opponent will change.
As you play the game, you get more clothes.
■ Attention to the changes of your daughter
As your daughter grows, her body shape changes.
Also, don't take your eyes off your daughter's daily changes as her facial expressions adjust to her changes.
■ Numerous characters and events
In order to describe the modern stage and the fantastic world view of 「Princess Maker」, we needed more various parameters and a character surrounding them.
In eight years, more complex human relationships are made up of about 100 characters, which are the biggest in the series.
Some of them develop friendships, or being rivals for love, living in another world, and you'll find a couple of old faces if you have played the previous game.
Of course, there are plenty of endings to match the modern- and another world with the greatest play time of the series, so you can play it multiple times for fun.
System Requirements for Princess Maker 5 Download Free
MINIMUM :
OS: Windows® XP or higher
Processor: Intel Pentium 3 or higher
Graphics: 32MB or greater graphics card
Sound Card: Direct Sound
RECOMMENDED :
OS: Windows® XP or higher
Processor: Intel Core2 Duo or higher
Graphics: NVidia GeForce GTX 280 or ATI Radeon HD 6630 or higher
Sound Card: Direct Sound
How To Install Princess Maker 5 Download Free
1. Download The Game.
2. Extract with WinRAR
3. Play!.
Download Princess Maker 5 Download Free
 Direct Link
Download Princess Maker 5 v5391741 Direct Link