Download Executive Assault 2 v1.0.4.0-P2P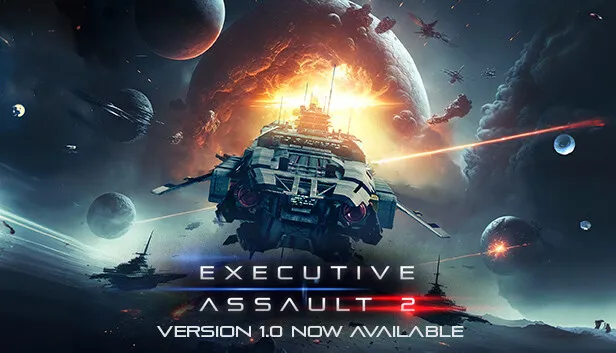 Game Details
Release name : Executive Assault 2 v1.0.4.0-P2P
Size : 2.44 GB
Title : Executive Assault 2
Genre : Action, Indie, Strategy
Developer : Hesketh Studios Ltd
Publisher : Hesketh Studios Ltd
Store: click here
Release Date : 18 Oct, 2023
Screenshots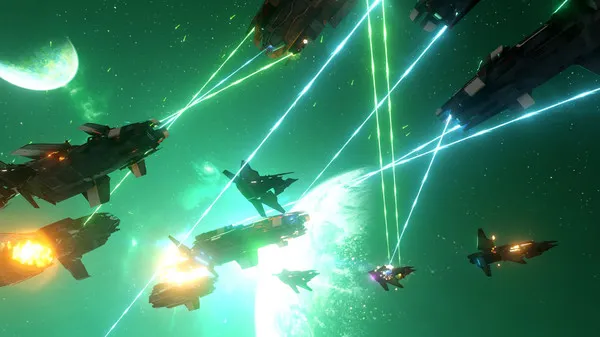 Gameplay
About This Game :
Prepare to embark on an epic journey into the depths of space with "Executive Assault 2," a fusion of real-time strategy (RTS) and first-person shooter (FPS) gameplay. Assemble your fleet of spaceships, deploy formidable tanks, harness the power of lasers, and command an army of robots in your quest for dominance in the cosmos. Brace yourself for intense battles and exhilarating base-building on asteroids.
Play Executive Assault 2 in multiple ways including:
Build your base on an asteroid or deploy outposts in space to claim sectors, mine resources, and boost your economy. Sell goods to traders to get promoted and gain access to new technologies. Manage base power, design units to adapt to the situation, and upgrade defence grids. Command fleets of ships or armies of robots and mechs, but be careful – rival corporations and rebellious protestors will do all they can to thwart your aspirations of intergalactic domination!
Fed up of watching the action from above and want to dive in and blow stuff up yourself? Seamlessly switch from RTS to FPS mode for manic fast-paced combat; whether that's playing as a robot defending your base or in the cockpit of a starship under your control.
Help your friends run their company by immersing yourself in a pure first-person experience as their Executron! Capture outposts, take starfighters out for a spin, board and pilot massive starships, control space fleets or armies of troops, invade asteroid bases with tanks and mechs, explore derelict stations and find loot you can bring back to the base, infiltrate enemy structures and disable them and more!
RTS Gameplay Features:
Play as one of three distinct factions.
Build an asteroid base with over 70 different structures.
Establish command outposts and expand with buildings to control sectors.
Construct and control customizable starships, and engage in tactical battles on a grand scale.
Multiplayer mode supporting up to 4 CEO companies.
Engage with up to 3 AI-driven CEOs.
Manufacture robots and mechs to help guard your base in invade others.
Mine asteroids for valuable resources with each faction having their own unique method.
Manufacture and trade goods to earn promotions and unlock new tech.
Prioritize power management within your installations.
Delve into a large tech tree.
Enhance station turrets for optimal defence.
Launch invasions on space stations via dropships or gateways.
Witness the destruction of entire star systems.
Delve in espionage and resource theft.
Craft your galaxy with the map editor.
Personalize your company with a custom logo and determine your goods.
First-person Executron Gameplay Features
Play under an AI controlled CEO or hop into a friend's company for a pure FPS experience.
Help them get promoted to unlock more powerful tech.
Get into tanks, mechs, space fighters or even board starships to command them.
Capture outposts to gain their special abilities by fighting off Infestors and other enemies.
Explore the mysteries of various star systems and raid derelict outposts for resources and upgrades.
Sprint around your base, defending against invasions and interacting with buttons and panels.
Raid enemy bases and steal their tech or cause havoc by hacking into their systems.
System Requirements for Executive Assault 2 Download Free
MINIMUM :
Requires a 64-bit processor and operating system
OS: windows 10 – 64 bit
Processor: AMD Duel core or Intel i5
Memory: 6 GB RAM
Graphics: Mid range – 4GB VRAM, game is graphically intensive.
DirectX: Version 11
Network: Broadband Internet connection
Storage: 8 GB available space
Additional Notes: Specs are subject to change as the game develops, game also has graphical quality options to cater for different setups
RECOMMENDED :
Requires a 64-bit processor and operating system
Processor: AMD Quad core or Intel i7
Memory: 12 GB RAM
Graphics: High range
DirectX: Version 11
Additional Notes: Make sure you have the latest drivers installed for your graphics card.
How To Install Executive Assault 2 Download Free
1. Download The Game.
2. Extract with WinRAR
3. Play!.
Download Executive Assault 2 Download Free
 Direct Link
Download Executive Assault 2 v1.0.4.0-P2P Direct Link