Download Age of Fear 2 The Chaos Lord Build 12012076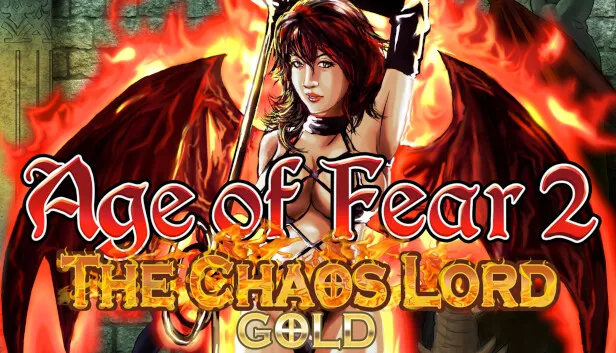 Game Details
Release name : Age of Fear 2 The Chaos Lord Build 12012076
Size : 6.12 GB
Title : Age of Fear 2: The Chaos Lord GOLD
Genre : Indie, RPG, Strategy
Developer : Leslaw Sliwko
Publisher : Age of Fear
Store: click here
Release Date : 27 Mar, 2016
Screenshots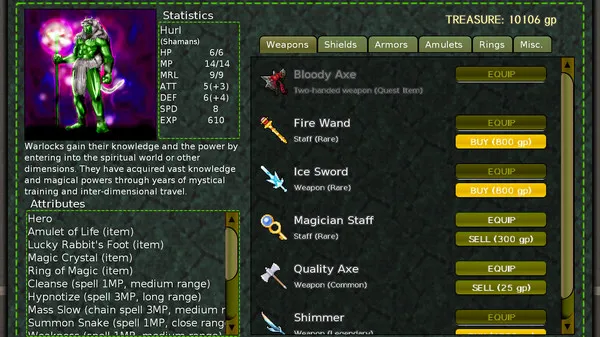 Gameplay
About This Game :
Play as either Bel'Kara, a seductive Succubus at odds with the Underworld, or Katzok, a brutal Orc Chieftan fighting for his clan's dominance. The choice is yours between brains and brawn, fiend or fighter, but both paths lead towards grand adventure!
AGE OF FEAR
is a long-running series of fantasy turn-based strategy games loved by fans for its tabletop wargame battle system and in-depth RPG customization. Age of Fear 2: The Chaos Lord continues the series' deeply tactical gameplay with two challenging story driven campaigns (full of humour!) to choose from. (scroll down for a list of features)
https://steamcommunity.com/sharedfiles/filedetails/?id=1647938873
https://steamcommunity.com/sharedfiles/filedetails/?id=2065806851
FEATURE LIST
⭐
HEX-FREE BATTLES
– test your tactics with a novel movement system where size matters and units aren't constrained by artificial grids!
⭐
OPEN WORLD
– are you bored with the main storyline? No worries, you can always take a side-quest or play procedurally-generated battles. Play this game as you want!
⭐
GLOBAL EVENTS
that occur while exploring the World Map, à la Battle Brothers. This feature is still being developed and could serve to provide more lore and fun unit interactions conditional on the player's party!
⭐
FACTION BASES
which can be upgraded as you explore the Age of Fear world. Investing in base upgrades will unlock additional recruitable units, skills and locations to explore!
⭐
MERCENARIES
– recruit your troops from multiple races and factions! Will a Dwarven Warrior work with a bloodthirsty Orc?
⭐
ALIGNMENTS
such as Evil and Holy. Units from opposite sides won't like each other and may desert. A bit of diplomacy (or charisma!) is needed to manage such relationships.
⭐
EXTENDED STORY
including many sub-quests, optional events, alternative endings, more detailed lore, etc.
⭐
FREQUENTLY UPDATED
– we take our work seriously and patch our games often with new features and content. Also, whenever possible, those updates are back-ported to all our previous games!
⭐
COMMUNITY-DRIVEN
– we listen to our players and continuously improve! Go and check our forums, everyone has their say and we implement those suggestions.
⭐
FULL OF JOKES
– who said strategy games have to be serious? All the best fantasy jokes have a home here!
⭐
PARTY CUSTOMIZATION
– build and upgrade a custom army from more than two hundred unique units, skills and spells (but be aware of racial animosities!).
⭐
DEEP BATTLE MECHANICS
– learn the basics in a hurry, then develop new strategies around a huge variety of skills, spells and battle hazards like neutral factions and environmental effects (yes, you can anger bystanders!).
⭐
EASY TO MOD
– create your own missions, or even full-fledged campaigns, to be shared with the Steam community!
⭐
FANTASY STORYTELLING
– get wrapped up in two separate storylines featuring a motley crew of characters, globetrotting adventures and fantasy shenanigans galore. All hand-illustrated!
⭐
PERMANENT DEATH
– accept the grim realities of death where all units that fall in battle stay dead… unless an evil Necromancer raises them as Zombies.
⭐
ARTEFACTS AND RELICS
– discover numerous unique weapons, armours, potions and treasures, with the rarest granting powerful OP skills and stat bonuses.
⭐
ADVANCED AI
– our AI is built upon a self-organizing network of agents and meta-heuristics algorithms (yes, we are PhD-smart!). Discover one of the most sophisticated AI systems you've ever played against!
⭐
LOW HARDWARE REQUIREMENTS
– run the game even on that old potato laptop of yours. Your stone-age computer is good enough!
⭐
COLOR-BLIND MODE
– a special mode with higher contrast and outlined fonts.
⭐
…everything else we come up with!
Purchase only if you want access to the latest features in the Age of Fear series, and please keep in mind that this is an evolving product.
If you're hungry for a no-nonsense, old school turn-based strategy game, you've met your match in the Age of Fear series. Enter the fantasy world of Age of Fear today!
SELECTED MODS
https://steamcommunity.com/sharedfiles/filedetails/?id=1381523432
System Requirements for Age of Fear 2: The Chaos Lord GOLD Download Free
MINIMUM :
OS: Windows XP
Processor: 1 GHz
Memory: 1 GB RAM
Storage: 5 GB available space
RECOMMENDED :
Processor: 2 GHz
Memory: 2 GB RAM
How To Install Age of Fear 2: The Chaos Lord GOLD Download Free
1. Download The Game.
2. Extract with WinRAR
3. Play!.
Download Age of Fear 2: The Chaos Lord GOLD Download Free
 Direct Link
Download Age of Fear 2 The Chaos Lord Build 12012076 Direct Link